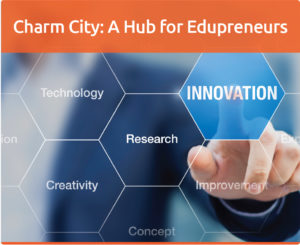 Baltimore is a quirky, curious, gritty city home to an open-minded, innovative, and entrepreneurial citizenry. It is in this fertile soil that a community of educators cum entrepreneurs have come together to make Baltimore a veritable education innovation hub. The education entrepreneur ("edupreneur") is a key fiber in the world's regenerative economy, driving economic development and improved scholastic outcomes by generating products and services that contribute to the greater good of all.
Why Edupreneurs?
So who are these edupreneurs and what makes them tick? It's a question worth examining if we are to build the ground swell of synergy between technologists and teachers that is required for positive impacts to be felt in classrooms and reaped by investors.
Key to education innovation in Baltimore, and in most thriving education hubs, is the core belief that solutions come from all walks of life. They are often born by educators who leave (or stay) in the classroom, or administrators or staff that see a problem that must be solved. The most authentic education entrepreneurs have walked in the shoes of their end users. They have felt the problem and are intent on solving it.
This tribe of brave innovators includes Jess Gartner, a stalwart former teacher who blew up all notions that education finance couldn't be helped and did not play a role in learning innovation and sustainability when she founded her company, Allovue, in 2014. It includes Nicole Tucker Smith, a former teacher turned administrator turned edupreneur, and her husband Khalid who, in 2011, launched Lessoncast to create a platform for schools and districts to personalize and enrich professional development.
Baltimore is rich with such authentic characters, entrepreneurs who exude and incite passion, problem solvers with the desire to change the world. Not only that, these edupreneurs know their customers, the channels, the players and the policy trends that are in existence and developing around them. They know whether a K-12 practitioner will use a novel web service for math instruction, or whether a college professor will adopt a new digital textbook. These are CEOs who can admit their weaknesses and build strong teams and who understand enough of the minutia of business and the industry to build scalable, sustainable companies.
Creation in a Bubble
What sets Baltimore apart is a nuanced emphasis on the teacher as innovator and entrepreneur. Education technology cannot be created in a bubble, nor can it be generated by a CEO with a gift for spreadsheets but no skin or soul in the game. The software in the box, the web service, the piece of equipment all must be able to operate in a system of students and administrators, must be innovative and iterative, must function locally but act globally.
One need only point to Baltimore success story Thread, to see this in evidence. Founded in 2004 by Sarah Hemminger, a Johns Hopkins graduate student, and her spouse Ryan, Thread is successfully tackling the intractable problems induced by dropping out of high school.
Baltimore is the epicenter of a mid-Atlantic region that is leading the way for innovation in educational technology. EdWire is a place where all the players who make up that landscape – teachers, administrators, entrepreneurs, policymakers – can share ideas, insights and activities. In future editions of EdWire this spot will be filled with everything from news features to opinion pieces like this from thought leaders in the region. Content will be overseen by guest editors who are interested in the confluence of education and technology and who are actively working to reshape the classroom experience.